Spin-off of PMB specialized in FLASH Radiation Therapy

Radiotherapy has been used for several decades to treat cancer and intensive research has made it a powerful and precise treatment for patients today. Although it has dramatically improved over the years, the efficiency of conventional radiotherapy is still limited by the complications and damages caused on normal tissue surrounding the treated area. 
FLASH radiotherapy consists in the delivery of very high dose rates in a fraction of a second and has reproducibly shown a healthy tissue sparing effect in several preclinical studies, while still effectively destroying cancerous cells. The very short irradiation time also eliminates any effect of organ or tumor motion: targeting is better controlled.
To help adapt this new technique to clinical practice, we are developing FLASHKNiFE and FLASHDEEP. 
This system is not CE marked as a Medical Device. 
About THERYQ
THERYQ is an innovative medical technology company specializing in the design and production of radiotherapy machines incorporating linear accelerators. THERYQ is a spin-off of the company PMB, which led the pioneering projects on FLASH since 2013 and has a long-standing collaboration with several prominent institutions around the world. A transfer by PMB to THERYQ of the complete branch of activity dedicated to its radiotherapy business was done in 2022.
THERYQ aims to introduce a revolutionary technology in 2 steps:
FLASHKNiFE, a product already developed to treat tumors up to 4 cm-deep with on-going clinical trials
FLASHDEEP, to develop and validate the first FLASH device for external radiotherapy of all deep-seated tumors
Today, around 30% to 40% of patients are resistant to conventional radiotherapy treatment. Moreover, there are many radiation-induced side effects and damages to healthy tissue surrounding the treated area. These constraints severely limit the radiation dose given to the patient, therefore impacting treatment efficacy and lowering survival rates.
By significantly reducing the treatment time, from several minutes to a fraction of a second, FLASH radiotherapy can give a greater dose of radiation in a single session, with less side effects. It provides a more efficient and better tolerated outcome in cancer treatment, while also expanding potential indications and widening the therapeutic window.

FLASHKNiFE
Energy : 10 MeV
Average dose rate : up to 350 Gy/s
Penetration depth : up to 4 cm
Field size : up to Ø 10 cm
Treatment duration : from 0,5 µs to several minutes
Combining an ultra-high dose rate electron beam linear accelerator, with an interactive robot on a mobile base, FLASHKNiFE helps translate FLASH radiation therapy into clinical practice and gives patients access to a more tolerated and better cancer treatment. FLASHKNiFE combines usability, flexibility and FLASH mode, for external and intraoperative radiotherapy. The patient receives their treatment in one single session, suffers from less side effects and benefits from a higher treatment efficiency.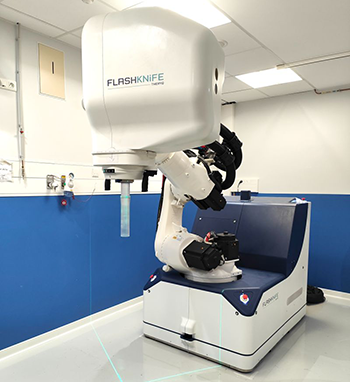 FLASHDEEP
Energy : From 100 to 200 MeV
Penetration depth : up to 20 cm
Full dose is delivered by a beam of electrons in less than 200 ms
All types of cancers
THERYQ has signed an agreement with The Centre Hospitalier Universitaire Vaudois (CHUV) in Lausanne, Switzerland and the European Organization for Nuclear Research (CERN) to develop FLASHDEEP, a revolutionary FLASH radiotherapy device to treat cancers resistant to conventional treatments. The first device will be installed at CHUV. 
By integrating the innovative compact linear accelerator technology developed by CERN, FLASHDEEP will use very high energy electron beams (VHEE), 10 to 20 times more powerful than those of FLASHKNiFE. 
VHEE FLASH technology has several advantages. High-energy electrons can be focused and oriented in a way that is not possible with X-rays, and radiotherapy devices based on CERN's electron accelerator technology will be significantly more compact and less expensive than current proton-based therapy facilities.