iMiGiNE is a robotized system capable of producing various radiopharmaceuticals used in PET imaging

With iMiGiNE, personalized molecular imaging becomes a reality. 
It is a cutting-edge automated system for the production of radiopharmaceuticals used in PET imaging. Compact and fully robotized, it offers an alternative to the heavy traditional radiopharmaceutical production processes and grants imaging centers access to a variety of molecules, at a low cost.
iMiGiNE
It combines a cyclotron iMiTRACE with a radiochemistry room iMiLAB, complete with an automated QC system
Superconducting magnet technology, external self-shielded beam
Automated target changer
Automated syringe dispenser, including high-precision activity measurement and traceability
For a few years now, with various collaborators, PMB has been designing and developing a cutting-edge automated system for the production of radiopharmaceuticals used in PET imaging. More than just another radiopharmaceutical dispenser, we have envisioned a system designed to improve and optimize patient care, while providing new grounds to further research in the medical imaging field. Due to its proximity with patients and research centers, iMiGiNE will help better detect and characterize diseases and allow for a same day diagnosis with multiple radiotracers.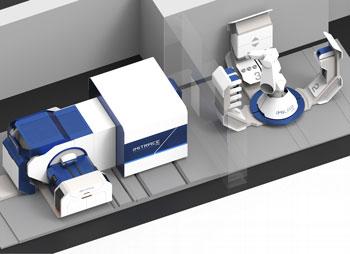 iMiTRACE cyclotron
Accelerates Particles to 12 MeV: ideal energy for the production of 18F, 11C, 68Ga and more
He-free Superconducting Magnet
Four External Targets
Self-shielded targetry
Lightweight and Compact
Reliable
Specifically designed for imaging centers, the cyclotron iMiTRACE grants them access to an on-site radiopharmaceutical production system. Reliable, stable and compact, iMiTRACE is entirely designed and manufactured at PMB. With a self-shielded, 4-port targetry and equipped with a helium-free superconducting magnet, iMiTRACE is the result of many technological improvements made to the cyclotron OSCAR (Oxford Instruments).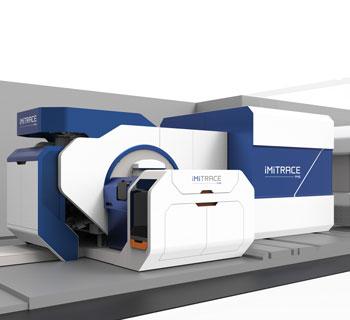 iMiLAB radiochemistry
Microfluidic-Based Synthesis
One Dose One Patient
Automated Syringe Filling
Self-shielded
Reduced Radiation Exposure
Multiple Radiopharmaceuticals Produced with 18F, 11C, 68Ga and more
The radiochemistry room iMiLAB is compact and self-shielded. Entirely robotized and GMP compliant, the iMiLAB radiochemistry room utilizes micro-fluidic techniques capable of producing diversified radiopharmaceuticals in an automated synthesis box and in sterile cartridges with onboard precursors and solvents. It is capable of synthetizing multiple molecules on a same-day basis, with a decreased need in staff.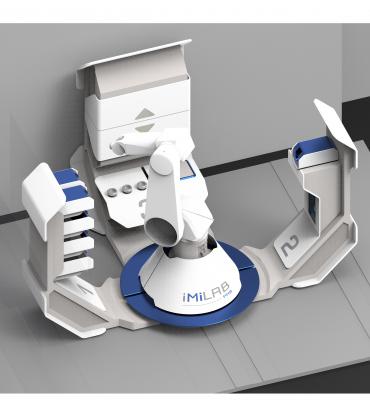 FIGEDIM Project 2020 - Greater East Region
PMB and Nancyclotep join forces to meet the Challenges of tomorrow's healthcare:
Promote the research and development of new molecules of clinical interest
Improve and optimize iMiGiNE's industrial processes and operations in a hospital environment
Participate in the transition from conventional to personalized medicine, particularly for companion tests related to targeted treatments