The ideal microfluidic environment to develop radiotracers

With the onset of theranostics and personalized medicine, medical centers need access to a wider variety of specific tracers in smaller quantities manufactured onsite for specific patients. iMiDEV designed for R&D and preclinical phases allows to meet this need.
Microfluidic environment
Low reagent and precursor consumption
Faster reaction rate even at lower temperature
Fully integrates valves, channels, reaction chamber and SPE chambers minimizing dead volumes
Completely closed consumable preventing contamination
Installed in a hotcell,  in connection with a source of radioisotope, iMiDEV is the perfect tool for radiotracer development and production in a unique innovative microfluidic environment. Thanks to microfluidic technologies, reagent and precursor consumption is low, synthesis is quick and the parameters are better controlled.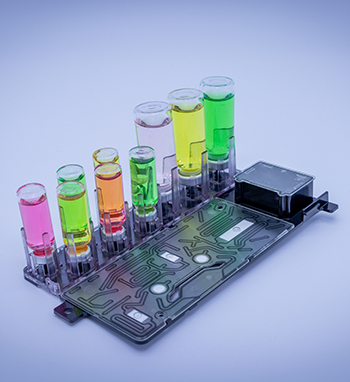 Automated mode available
Fully automated mode
Optimized process
iMiDEV can work in a fully automated mode, including HPLC, with dedicated scripts. Scripts are created using existing and already tested functions, which makes the creation of new recipe fast and reliable. With iMiDEV, every parameters can be controlled and monitored throughout the whole process. Synthesis can be done either manually or in a fully automated manner. Each synthesis generates a report collecting all the data from the actuators and sensors, allowing for quick and easy process optimization.
Versatile
11C - labeled tracers : [11C] flumazenil, [11C] L-deprenyl, [11C] Methionine, [11C] Choline
18F - labeled tracers : [18F] DPA-714, [18F] NaF, [18F] AIF-PSMA-11
68Ga - labeled tracers : [68Ga] Ga-FAPI-46, [68Ga] Ga-PSMA-11, [68Ga] Ga-DOTA-TOC, [68Ga] Ga-citrate
iMiDEV is based on a unique microfluidic single-use cartridge architecture preventing cross-contamination. The following radioisotopes have already been used successfully with iMiDEV : 11C, 18F and 68Ga.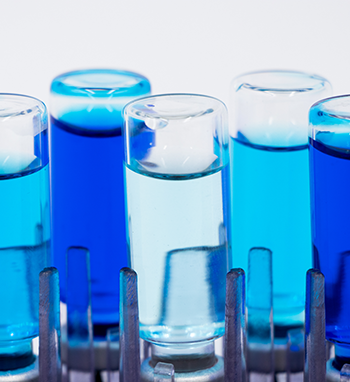 Facilitated transfer
Once the process is established, the transfer to other iMiDEV or iMiLAB and the scale-up towards clinical practice is immediate.