Compact and Lightweight 12 MeV Cyclotron for PET radiopharmaceutical production

Specifically tailored for the in-situ production of radiopharmaceuticals used in molecular imaging applications, PMB designs and manufactures the cyclotron iMiTRACE. Due to its unique architecture, it offers unique characteristics as well as high performance, with a high level of reliability. 
Innovative and unique
Highly innovative and unique design
He-free superconducting magnet
Lightweight and self-shielded targetry
12 MeV energy
As the result of many technological improvements made on thecyclotron OSCAR, iMITRACE is highly innovative and unique. It is the first cyclotron using a helium-free superconducting and persistent magnet. Due to its particular design, it is a very light cyclotron: it can be installed in a 50 sqm room with only 50-cm-thick walls. The external self-shielded targets and the superconducting magnet allow iMiTRACE to be compact and extremely stable in operation, providing high production yields while not requiring helium cooling. 
Moreover, this cyclotron accelerates particles to 12 MeV, which is the perfect energy for the production of batches and on-site production of 11C, 18F and 68Ga single dose, in the case of personalized molecular imaging with the system iMiGiNE®.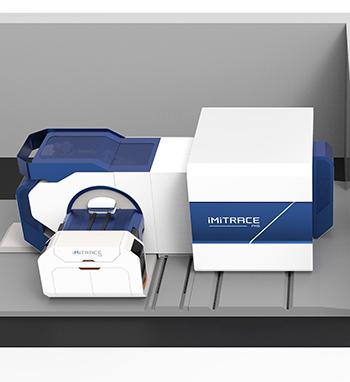 Facilitated Use and Maintenance
Automated operation
Easy to use and easy to install
Designed for fully automated operation, from target selection and filling, to delivery, iMiTRACE is easy to control. It is equipped with an intuitive and user-friendly interface, designed to give all the necessary information, depending on the operator's level of expertise and training. Moreover, as the ion source and targets are external, the maintenance of the cyclotron is easier and quicker. This aspect of its architecture allows maintenance operations to be done with less equipment activation, due to the self-shielded targetry, and increased uptime. Easy to install in both new and existing facilities, iMiTRACE only requires 50-cm-thick walls.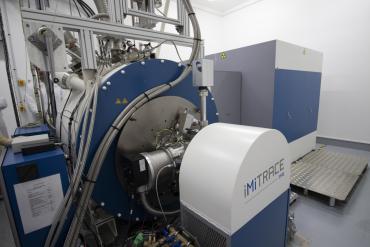 FIGEDIM Project 2020 - Greater East Region
PMB and Nancyclotep join forces to meet the Challenges of tomorrow's healthcare:
Promote the research and development of new molecules of clinical interest
Improve and optimize iMiGiNE's industrial processes and operations in a hospital environment
Participate in the transition from conventional to personalized medicine, particularly for companion tests related to targeted treatments