PET imaging is one of the most powerful and least invasive ways of observing the metabolic activity of an organ and a tumor or any cells in body tissue. Today, the radiopharmaceutical molecule widely used in PET imaging is 18F-FDG (FluoroDeoxyGlucose), which is produced in large-size cyclotrons and distributed by major private centers. Financial and technical constraints limit the use of more than 200 other molecules that could be of clinical interest. Medical and research centers are unable to use more specific molecules, with an often short half-life. This limited access has direct consequences on patient care: less specific radiopharmaceuticals, less adequate treatment.  
iMiLAB reveals new horizons in the field of radiopharmaceuticals used in PET imaging. It is capable of producing multiple radiotracers a day, with a minimum need in staff, and it relocates the synthesis close to the patient. 
Fully Automated Operation
Installed in a self-shielded room, iMiLAB is designed for fully automated operation. It is equipped with a 6-axis robot, programmed on the intuitive user interface to operate the entire system, after the microfluidic cartridge has been prepared with the adequate precursors and solvents. 
Using iMiLAB thus requires few personnel, and the staff is exposed to a low level of radioactivity. Moreover, the equipment inside the radiochemistry room is easily accessible for maintenance operations.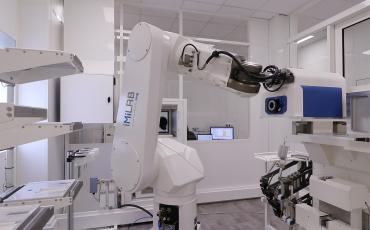 Microfluidic Technology
With a unique microfluidic cartridge architecture, iMiLAB can produce multiple radiopharmaceuticals based on 18F, 11C, 68Ga and 13N, within the same day. Single-use cartridges prevent cross contamination. Thanks to microfluidic technologies, reagent and precursor consumption is low, synthesis is quick and the parameters are better controlled.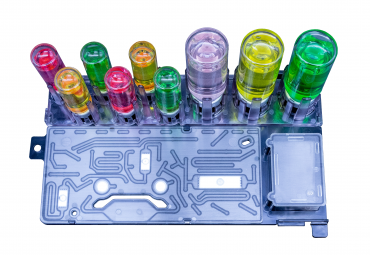 A Unique Radiosynthesis Box
The synthesis process is mainly carried out in an innovative radiosynthesis box, with the following advantages:
Low reagent and precursor consumption

Accelerated synthesis and optimized control of each parameter

Integrated sterilization filter and bubble point test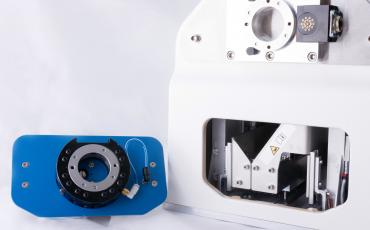 iMiDEV: the microfluidic synthesizer
iMiDEV, an R&D version of iMiLAB, has also been designed for research purposes. It can be used to develop new syntheses, improve performance and discover new radiotracers. 
Access to microfluidic techniques
Parameters are better controlled (low activity and low volume)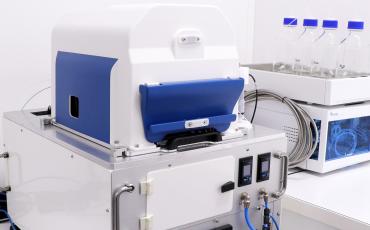 FIGEDIM Project 2020 - Greater East Region
PMB and Nancyclotep join forces to meet the Challenges of tomorrow's healthcare:
Promote the research and development of new molecules of clinical interest
Improve and optimize iMiGiNE's industrial processes and operations in a hospital environment
Participate in the transition from conventional to personalized medicine, particularly for companion tests related to targeted treatments